Struggling with Covenant Theology and the Bible? Let's make it EASY…
Covenant Theology Made Easy, by Dr. C. Matthew McMahon
Get the EBook here.
Get the Hardback book here.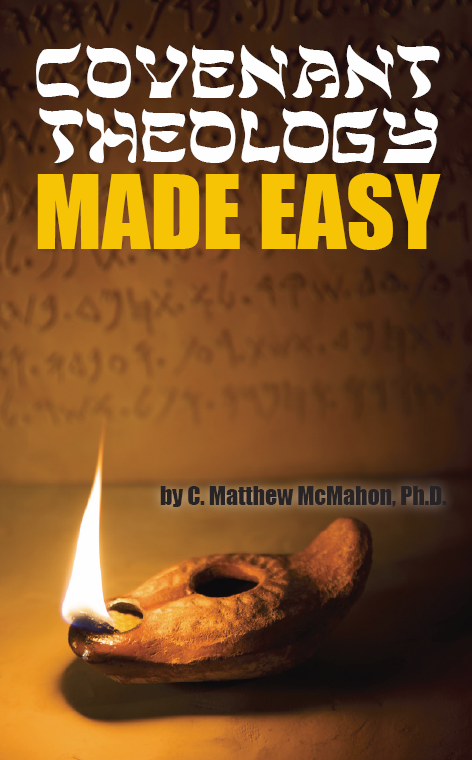 Some newly published works you should be interested in on Covenant Theology:
A Discourse on Covenant Theology and Infant Baptism by Cuthbert Sydenham – eBook
The Manifold Wisdom of God Seen in Covenant Theology by George Walker – eBook
The Covenant of God by Thomas Blake – eBook
A Chain of Theological Principles by John Arrowsmith – eBook
The Covenant of Life Opened by Samuel Rutherfod – eBook
Buy the Hardback Books HERE
Covenant Theology is nothing short of God's master plan for His Son, His will, and subsequently, His elect church. Covenant Theology is divided into two orthodox groups that simply squabble a little over a primary division between The Covenant of Redemption and the The Covenant of Grace. However, though there may be some small changes or nuances between, say, John Owen and Francis Turretin, both theologians are in agreement on the substance and nature of the the covenants that God has instituted to know Him, His will and His Son in a glorious light.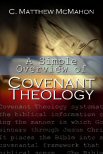 If you are new to Covenant Theology, then I would suggest easing into the material by reading "A Simple Overview of Covenant Theology." It truly is a simple way to understand the basics of Covenant Theology and the covenant signs through the Bible.
CLICK HERE to learn more about that work.
In "Westminsterian" Reformed circles there is no real debate on how "covenants" work. Reformers, Puritans, and those that came after in the spirit of the Reformation agreed on the basics. The Westminster Standards were drawn up after the birth of formal Reformed Theology to set down in print those basic ideas (keep in mind that Augustinian theology was very much Reformed without using that term). Though many people would read through the Westminster Standards and say that it is much more than "basic" – anything but basic! – they cannot deny the adherence of such a sublime unity in the manner that the Westminster Divines adhered to covenant theology.
Even after the Standards we find the Sum of Saving Knowledge that, very much, mimics the nature of the Westminster Confession and depicts the threefold designation of classic Covenant Theology – The Covenant of Redemption, The Covenant of Life (or Works) and The Covenant of Grace. Some do not like the designation of the Covenant of Redemption (such as Turretin) but those theologians must take a much longer time to EXPLAIN their views and, like Turretin, agree that the Covenant of Grace is simply divided into two sections. These two sections would, in this writers opinion, simply be easier to follow if one did NOT say "The Covenant of Grace is divided into two parts – the decreed eternal counsel of God and then the counsel of God seen in time with sinners." Two aspects of, as Turretin says, one covenant. However, it is much more logically coherent to say The Covenant of Redemption (all that the Father does to decree and save sinners in Christ before the foundation of the world) and the working out of that covenant in time – which would be the Covenant of God's grace with sinners, are two covenants – one with Christ and one with elect sinners. Either way, both parties wind up in the same place. Some of us, though, are just a bit more tidy in the way we lay it out using a threefold designation instead of a twofold.
A word must be said about the controversy with our dispensationalist friends – the baptists. As much as they hate to admit it or hear it, Baptists continue to deal with dispensational ideas and cannot escape that designation until they become Presbyterians. (Sorry friends.) Having BEEN a "baptist", "southern Baptist", "founders baptist" and a "reformed" baptist, I can say that my theology was absolutely wrong due to the regular meal of dispensationalism we heard in church Sunday after Sunday – not to mention we read dispensational ideas in many of the works that Baptists have published – like William Sherriff's "Lectures on Baptism", and the like. Baptists continue to say they are "covenantal" (which is fine) but they can never be "Covenant Theologians" as church history demonstrates.
Regularly we receive many emails about "Baptism and Infant Baptism". But this is NOT the crux of ANY issue. Rather, baptism and infant baptism, covenant signs, are simply the last 5 minutes on a 10 hour discussion on covenant theology.
So, what do we make of it all? Is the sacrament of baptism a sign and seal of regeneration? Is circumcision a sign and seal of regeneration? Is the covenant sign something we should administer to our children? Did Abraham administer the covenant sign to his children? How does baptism fulfill the promise made to Abraham?
Find answers to these questions in the articles of this section of the site.
Offsite Articles on Covenant Theology and Baptism:
What Mean Ye?
by Rev. Richard bacon (A good article against Paedo-communion, but helping to understand the Passover in light of the Lord's Supper.)
Covenant and the Unity of Scripture, Part 1
by Dr. John M. Frame
Covenant and the Unity of Scripture, Part 2
by Dr. John M. Frame
Covenant Sign and Seal: The Symbolic Significance of Circumcision, and Its Application to the New Testament Believer, Part 1
by Rev. Michael Glodo
Covenant Sign and Seal: The Symbolic Significance of Circumcision,and Its Application to the New Testament Believer, Part 2
by Rev. Michael Glodo
Covenant Theology Under Attack
by Dr. Meredith Kline
Comments on A. A. Hodge's One-Covenant Construction of the Redemptive Order
by Dr. Meredith G. Kline
The Marrow of Modern Divinity
by Rev. Edward Fisher
The Covenant of Grace
by A.A. Hodge
Ark of the Covenant Opened: Chapter 3
by Patrick Gillespie
The Covenant of Redemption
by Alexander Peden
Baptism: Its Meaning and Purpose
By Dr. Greg L. Bahnsen
Cross-Examination: Infant Baptism
By Dr. Greg Bahnsen
Baptism
by Dr. Francis A. Schaeffer
The Covenant of Redemption Between the Father and the Redeemer
by Rev. John Flavel
Jonathan Edwards on the Covenant of Grace
by Carl W. Bogue
Robert Riccaltoun (1691-1769):
The Covenant of Grace

A Brief and Untechnical Statement of the Reformed Faith
by Dr. B.B. Warfield
Outline of the Covenant of Grace
by Dr. James Henley Thornwell
A Treatise of the Covenant of Grace
by Dr. John Ball

The Doctrine of the Covenant in Reformed Theology
by Dr. Geerhardus Vos
Grace & Salvation – How Christ is rightly and properly said to have merited grace and salvation for us.
by John Calvin
Man's Estate of Holiness and the Covenant of Works
by Dr. R.L. Dabney